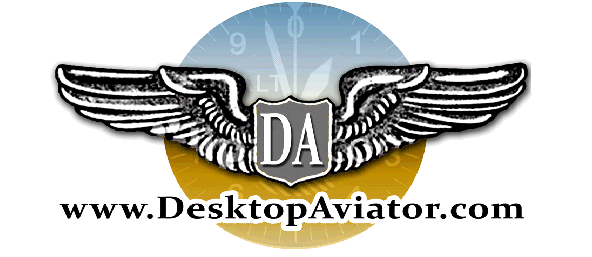 Information on International Shipping
See New International Shipping Fees (Below)
---
---
---
---
---
Desktop Aviator HOME Page
You can make payment directly through PAYPAL.
Or if you wish, we can send you a PayPal 'PAYMENT REQUEST' via eMail.

Our PayPal Account name is:

Support@DesktopAviator.com

http://www.PayPal.com

We now accept Credit Card Orders online. See Below:
If your order is shipped via U.S. First Class International mail, you should receive your order within 6 to 8 weeks. If shipped by U.S. Priority Mail, your order has a 10 to 15 Day Delivery. These estimates do not include any delays your order may encounter while passing through Customs. But please be aware that in some rare occasions, International Customs delays shipments up to 8 weeks. Hopefully this will not happen with your order. But if you do not get your order within 14 business days, PLEASE be Patient!

International payments can be made through PayPal. If you do not have a PayPal account, you can still place your order using any Major Credit Card using our HIGHLY encrypted Online web page. Just make a list of the items you wish to purchase, and goto:






Enter all Credit Card information, name, shipping address and Items you wish to purchase, then click "SEND". In minutes, your order will be processed.

If your Web Browser requests that you Accept a SSL Certificate from Doteasy.com; please do so. Doteasy is our Web Host and this is where we have our Encrypted Web Page.

Standard International shipping fees will be added to your order. For small circuit board orders, shipping via FLAT Rate Priority Mail fees is $36.95 Larger, heavier shipments; fees start at $41.00usd.

NOTE: We do not offer FREE International Shipping on any orders!

Please Take Note: Desktop Aviator Will not ship orders to any individual if a Valid and Operational Email address is not provided. Payments will be REFUNDED! Please verify that your eBay and PayPal Accounts have an updated and working email!

Again, Thank You for your inquire and I hope to be hearing from you soon.

Ms Coy Vergara
International Sales
Desktop Aviator
* TERMS and Conditions for Shipping International
We ship your order via U.S. Airmail. If shipped by Priority Mail, we will email you a copy of the TRACKING NUMBER so you can check on the progress of your order. You can expect to receive your order within 10 to 15 days barring any delay at customs. If shipped by First Class International Mail (Delivery time - 6 to 8 weeks), or FLAT RATE International Priority Mail (Delivery time 10 to 15 days), we will email you a Customs Number so that you can verify that your order has indeed been shipped. This Customs Number can not be used to track your order. It just indicates that your order has been accepted by the U.S. Post Office and it is on its way to you. Please be aware that these shipping estimates do not include any delays your order might encounter while going through Customs.

Sorry, but we can not accept responsibility (item replacement or Refund)
if the order is lost or stolen during transit.

UPS, Fed Express, DHL, ect Shipping is Unavailable. We find these companies charge excessive Broker Fees.

Any OVERPAYMENT made on any Order is Quickly REFUNDED via PayPal

Please note that your order might be subject to VAT (Value Added Tax). This
VAT is the sole responsibility of the Purchaser. Desktop Aviator will not
be responsible for VAT payments.


Aditional Information - Let it be known that as of this date (Feb 9 2015) Desktop Aviator will not accept any responsibility for the replacement and/or refund for any lost or damages package using First Class International Mail. The Customer accepts the responsibility for the safe arrival of the items.
This included Domestic and International Addresses.

Also, Desktop Aviator will not be held responsible for any Damage or Lost Items (This include Replacement and/or Refund) on shipments made to the following countries: ITALY, ISRAEL, SPAIN, FRANCE. BRAZIL

This included First Class International Mail, FLAT Rate International Mail and Priority Mail. Purcher Accepts all Risks. Any orders received from these countries, the Purchaser Agrees to These TERMS and Conditions of Sale.
For your convience, we added a Currency Exchange Link so you can convert from the U.S. Dollar to other worldwide currencies
<!- START COUNTER CODE -->
---
Aditional Terms for International Shipping Added 2-9-15 - See Below
Updated 02/17/2019
ADDIUM
Feb. 9 2015
---