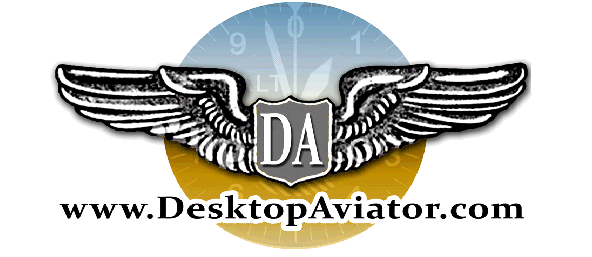 Completely Assembled/Tested
Fuel Tank Selector Panel
NOTE: Design Subject to Change without notice

Fuel Selector Panel Measures 7.25 inches by 3.0 inches.
Requires an inside clearance of 2 1/2 inches
USB Cable also Included
Any Questions? Feel Free to contact us at:
DesktopAviator@USA.com

Plus Shipping/Handling
Ordering Information . . . .

For Purchase Using PayPal

Our PayPal Account name is: Support@DesktopAviator.com
U.S. & Canadian Orders ONLY PLEASE! (For International - See Below)
Place Your Order HERE
---
Desktop Aviator HOME Page
International Shipping Info
Fuel Selector Switch w/Fuel Cut-Off valve
Easily Incorporate a Fuel Tank Select to your Flight Panel or GoFlight Rack
<!- START COUNTER CODE -->
---
---
The Model 2395 is a totally Re-designed Fuel Selector Panel. As the 2390, the 2395/3025 is an Easy to install and Program flight necessity. Fashioned from a late model Cessna 172, the 2395 allows the selection of fuel flow from the left, right and from Both Tanks with the flip of the Large Military black Pointer Knob. By flipping the knob to the 12 o'clock position, you draw your fuel from Both tanks; At the 9 o'clock, Left Tank only and at the 3 o'clock position, the Right Tank. Then, in case of that rare in-flight emergency, the 2395/3025 also has a Push/Pull emergency Fuel Cut-Off. All of the 2395 functions can be found in the inexpensive flight add-on utility; FSUIPC.

The 2395/3025 was designed for flush mounting inside your flight desk. Just cut the appropriate size hole on your instrument panel and insert the 2395/3025 and secure with 2 screws (Two 8-32 Nylon Thumb Screws are also Provided). When installed, you can now program the 2395 using MS-2002, MS-2004, FSX, FSUIPC. Also compatible with GoFlight's Panel Racks (GF-AC and GF-Mini Rack)
* Just Plug Panel into USB Port
* Controls Left/Both/Right Fuel Tanks
* Push/Pull Switch for Fuel Cut-Off
* Large Military Type Selector Knob
* Use FS 'Settings' to Assign Functions
* Uses Standard Series "B" USB Connector
* Requires FSUIPC for Programming
* Easy Programming Instructions Below
* Flush Mounted to your Flight Deck
* Mountable in GoFlight's Panel Racks
* Measures 7.25 inches by 3.0 inches
The Fuel Tank Selector Knob is a Military Styling and is made from Polycarbonate; Matte Black; 1/4 in. Round; 0.562 in.; 0.869 in.
Fuel Selector - Model 2395/3025
MS Flight Simulator FS2004, FSX & Prepar3d
Requires FSUIPC for Normal operation.

Also compatible with X-Plane 10's Button:Adv Settings
The 3025/2395 has been redesigned to now include a 4 position Mechanical Rotary Switch with 90 degree indexing.

This allows for a MORE Realistic Feel for the Selection of Fuel Tanks.
NEW! Now with a 4 Position 90 degree Rotary Switch
A YouTube Review of the 3025
See a YouTube Review of the 2395/3025 Panel - Below
Complete Installation Instructions can be found HERE
Click HERE to use your PayPal Account
Click HERE to place your order using our Secure Online Credit Card Server (HTTPS).
Or you can Request an Invoice to be emailed to you. Then just follow the LINK provided in this email and use your PayPal Account or Major Credit Card to complete the Transaction.
3025

Fuel Tank Select Panel

<! ============================= PAYPAL ==========================================>


<! ------------------------------ PayPal End --------------------------------------->

$87.95

FREE Upgrade to RED Emergency Fuel Cut-off Knob.
Also includes RED and GREEN LED Indicator Lights to show Fuel Flow
LED Indicator Lights (RED & GREEN)
Fuel Emergency
Cut-Off Switch
(3D Printed)
GREEN Light indicates
Fuel Flow while RED indicates
Fuel Cut-off
Easily Install and Program your very Own Fuel Select Panel (w/Emergency Fuel Push/Pull Cut-off Valve) with Microsoft's Flight Simulator FSX,
Prepar3D & X-Plane

For Windows 7 and higher and MAC OperatingSystems