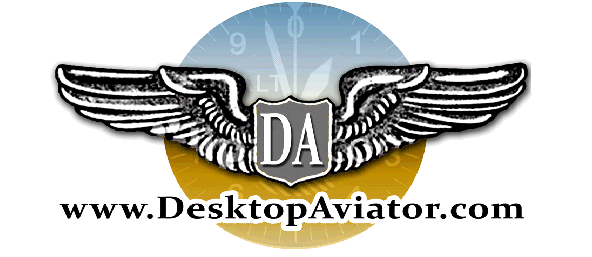 ---
---
Completely Assembled/Tested
USB Parking Brake Panel
Microsoft Flight Simulator FS2000, FS2002, FS2004 & X-Plane
Any Questions? Feel Free to contact us at:
DesktopAviator@USA.com
<! GOOGLE ADS ======END ==================================================>
---
Desktop Aviator HOME Page
International Shipping Info
Parking Brake Panel
The 2405 Parking Brake!

Totally Redesigned
---
Easily Increase the realism of your flight by adding this Parking Brake Panel. Designed with the look and feel of a REAL Aircraft Parking Brake, the 2400 adds the REALISM of Flight but without the HIGH Cost.

Connected to your computer by its USB Cable, the 2405 is sensed as a standard HID Joystick. Driver software is automatically installed by your computer for easy Plug-'n-Play installation.

Can be programmed using the available Flight functions available in your FSX, FSX-SE, P3D, MS2020 and X-Plane Software (Parking Brake on/off).


Installation Instructions can be found HERE
The Parking Brake Panel is mounted in a Black Plastic case measuring:

2.5 inches by 1.5 inches by 5.0 inches
With Mounting flanges on either side that adds an additional
0.75 inches on both sides. Each flange has 2 holes for Easy Installation

With USB Cable is Approx. 30 inches Long

The "T" Handle measures 2.30 inches in width and 0.55 inches at ite widest point. BLACK in color.
---
---
<!- START COUNTER CODE -->
---
---
Our PayPal Account name is: Support@DesktopAviator.com
U.S. & Canadian Orders ONLY PLEASE! (For International - Click HERE)
* Just Plug Panel into USB Port
* Panel sensed as a USB Parking Brake
* Use FS Settings to Assign Functions
* Uses Standard USB Connector
* NO Outside Power Required
* Easy Programming Instructions
* Black Plastic Project Box
* w/ Mounting Flanges for Easy Installation

Parking Brake Panel
with Built in USB Interface -

for Microsoft's FSX, P3D, X-Plane 10/11 & MS2020
Also Compatible with FSUIPC

Now with Engraved Text "BRAKE RELEASE" for a more Realistic Look
2695 Landing Gear Panel & 2400 Parking Brake Review by SimCaptain
Click HERE to place your order using our Secure Online Credit Card Server (HTTPS).
Or you can Request an Invoice to be emailed to you. Then just follow the LINK provided in this email and use your PayPal Account or Major Credit Card to complete the Transaction.
2405
<! ============================= PAYPAL ==========================================>
Parking Brake w/USB Series "B" Cable


$57.95
Easily Mounts under your Flight Desk with Velcro or 4 Screws.
Please Note: The Parking Brake Handle is Press-Fitted onto the shaft of the Push/Pull switch and can not be removed. If you try to remove the handle, you will damage the switch null and Voiding any Warrenty. DTA will not be held responsible for any breakage of this type. If broken, standard repair fees and return shipping cost will be imposed.
We were able to acquire a number of Handles with the "Brake Release" imprint
Check-out our New Parking Brake . . .
---
. . . the 2980 is a totally redesigned 2405 panel containing an Amber LED light showing the status of your aircraft's parking brake.

Amber LED ON when brake is set and OFF when released.

Just plug the 2980 into an unused USB port and let the computer load the appropriate driver software.

Compatible with FSX, X-Plane and MS2020 flight sim software.
Click HERE to take a look at the new 2980 Parking Brake