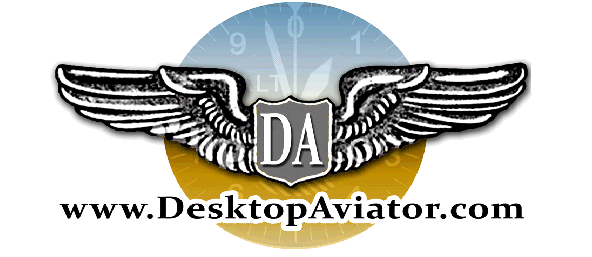 ---
---
Desktop Aviator HOME Page
International Shipping Info
---
Attention International Customers
If you live outside of the U.S. & Canada and wish to purchase this item: Please email us your complete shipping address. We will be more then happy to email you the required shipping Fees.

Any Over Payments are Quickly REFUNDED via PayPal.

For International Sales, Please read the
Terms & Conditions for Worldwide Shipping
Click Here to eMail us:
DesktopAviator@USA.com
---
---
---
---
U.S. & Canadian Orders ONLY PLEASE! (For International - Click HERE)
Place Your Order HERE
---
<!- START COUNTER CODE -->
Click HERE to use your PayPal Account
Click HERE to place your order using our Secure Online Credit Card Server (HTTPS).
Or you can Request an Invoice to be emailed to you. Then just follow the LINK provided in this email and use your PayPal Account or Major Credit Card to complete the Transaction.
<! ============================= PAYPAL ==========================================>


<! ------------------------------ PayPal End --------------------------------------->

$62.95

Carb Heat Control Panel
Model 2940

Introducing our NEW Model 2940 Carburetor Heat Controller
Panel. Using the Push/Pull switch (Found on our PARTS Page)
the 2940 controls the heat distribution in you engine during
those fridge high alititude flights. As an added Bonus, we also
included two rectangular LED indicator lights to show the status
of the carb heat; RED for Carb Heat OFF and GREEN for Carb
Heat ON. The 2940 also contains additional inputs that allow you
to easily connect up to 14 SPST Toggle or Rocker Switches
that too can be easily programmed for any needed flight function.

Best of all, the 2940's USB output can then be easily configured
using the SETTINGs windows seen inside FSX/FSUIPC,
X-Plane v10 and 11 and now MS2020

Just configure as: Carb Heat on / Carb Heat off
---
Installation Instructions can be Found HERE
The 2940 Measures: 27.9mm wide by 43.8mm high by 35.0mm deep

Due to the small footprint of the faceplate, the controller board is not attached to the panel. It is, however, connected to the controller board using a 5 inch wire bundle. The controller board can then be attached to any internal structure using the supplied double sided tape.
2940