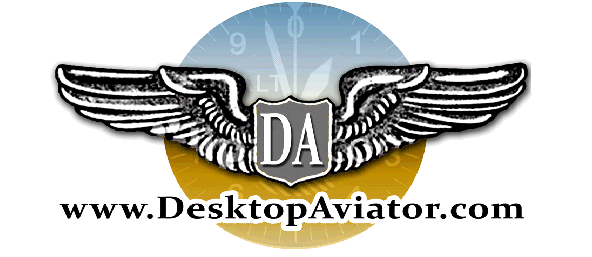 ---
Desktop Aviator HOME Page
International Shipping Info
WELCOME to Desktop Aviator

Quality Flight Simulator Avionics Panels
QUALITY Flight Simulator Avionics Panels
The 2695 is a new design that simulates the Landing Gear Status by the ramdom lighting of 3 RED and 3 GREEN LEDs.
Supports FSX/FSUIPC, FSX-SE, P3D and X-Plane flight simulators. Available with a Beechcraft style Lever Knob
and Locking Toggle Switch for Gear activation.

NOW Compatible with MS2020
Model 2696 Landing Gear Panel for FSX
Designed to be mounted inside your home-made aircraft's panel or GoFlight's Panel Rack.
Trim Wheel Panel
Mini Trim Wheel Panel Now Available!
* Designed for use w/Beechcraft, Mooney, Cessna or any
Commercial Aircraft
* Compatible with FSX/FSUIPC, Prepar3d and X-Plane
* Uses Standard Series "B" USB Connector
* Large 4 inch Diameter Plastic Wheel
* Flush Mountes to your Flight Deck or GoFlight Panel Rack
* Also contains programmable Standard Toggle Switches (6)
& one Rotary Potentiometer that can be configured as
Rudder Trim, Aileron Trim or Nose Wheel Steering (tiller)
* With 3D Printed Trim Wheel

For X-Plane & FSX/FSUIPC, MS2020
Totally Re-designed, the Model 2405 Parking Brake Module is an Easy to Install Switch Box. Assembled using a Black Plastic Project box with Mounting Flanges, the 2405 can be installed on the underside of your Flight deck with 4 screws. Or if you prefer, Velcro Tape. When installed, just program the Parking Brake using your FS2004, P3D, FSX, FSUIPC or even your copy of X-Plane v10 and v11
2405 Parking
Brake Module
Throttle Quadrant Model 2780/2790
Both Panels can be seen HERE
Supports X-Plane & FSX/FSUIPC
* Designed with the Cessna aircraft in mind,
the 2780/90 are a completely self contained
Throttle Quadrant. Mounted inside an
attractive light gray plastic case, the 2780
will greatly increase the realism of your
flight
* Compatible with FSX/FSUIPC, Prepar
3D and X-Plane
* Uses Standard Series "B" USB Connector
* Uses our 3D Printed Throttle Assys
* 12 Bit Resoution for precise settings
* Easily calibrated using the Calibration Window
found in XP, Win 7, and Win 10 computers.

Model 2780
Model 2790
<!- START COUNTER CODE -->
OK, I know it happened to all of you SAITEK owners, You went to install a panel using SAITEK's "C" Clamp adapter and find that the round snap-on piece to the screw is missing. Can't find it anywhere. It's Lost Forever! Well, not exactly; Desktop Aviator has a 3D Printed replacement for the "Thing-a-ma-Gig", just clip-in on the the end piece of the plastic screw and you're back in business. By the way, we also put a piece of felt to prevent marring furnature.
3D Printed Replacement "Thing-a-ma-Gig"
for the SAITEK Screw-on Clamp
$4.95
<! ============================= PAYPAL =================>
Fuel Tank Selector Panel
The Model 2395 Fuel Selector Panel is an Easy to install and Program flight necessity. Fashioned from a late model Cessna 172, the 2395 allows the selection of fuel flow from the left, right and from Both Tanks with the flip of the Large Military black Pointer Knob and FREE Upgrade to RED Emergency Fuel Cut-off Knob also included
Designed to be mounted inside your home-made aircraft's panel or GoFlight's Avionics Rack

Red/Green LED Fuel Flow indicators now included
Here we have the Model 2855 switch panel. Designed for FSX/FSUIPC, X-Plane 10/11, MS2020; this Cessna Switch Panel includes a two Dual Rocker switch for Bus1 and Bus2 Avionics Electrical control & Master Alt/Bat functions.

Also, available is the Model 2820 with a single Rocker Switch for Master Avionics function.
Model 2820 Switch Panel
Check out our Newest Family of Cessna Switch Panels; The Model 2820 and the 2855. Each panel is NOW compatible with FSX, Prepar3d and X-Plane (10.x & 11.x), MS2020! Just imagine, the four major Flight Simulator Software packages are now supported by ONE Cessna Panel. Just run the desired flight sim program and your Cessna Panel will work without any compatibility problems.
Come check it out

Model 2705
Other 3D Printed items also available on our PARTS Page.
To increase the Realism of our flight sim cockpit, we wanted something other then a Paddle switch with a spring return to control our Flaps. We wanted something to emulate the flaps control lever found on Cessna's 172, Mooney, Beechcraft aircraft with descreet positioning that allows you to set your flaps in incremental settings from Fully Retracted to Fully Extended. The Model 2530 is the results of our efforts. Compatible with FS2002, FS2005, FSX & X-Plane. The 2530 is a small FLAPs Controller that is flush mounted to your aircraft cockpit. It utilitizes a 4 position Lever Switch that allows its internal computer chip to emulate the positioning of the flaps as seen on many Flight Sim programs.
FLAPs Controller Panel
... control your Flaps from Fully Retracted to Fully Extended in incremental positions.

Now with Cessna Style FLAPs Knob
The Panel Measures: 2.0 inches by 3.4 inches
<! ============================= PAYPAL =============>
---
$3.25 each
For thoses needing a Push Pull switch to control a Flight function, we have a 3D Printed RED knob that is compatible with the switch seen above. Using the switch and any of our Interface boards (2120, 2160 ect) you can easily build your own controller.




Measures: 25mm by 8mm.
Available in RED


RED Knob for Push/Pull Switch
3D Printed Knob for Push/Pull Switch
The knob has no Thread.
Uses an M4-4 set screw
Push/Pull Switch sold separately. See Above
Model 2855 Cessna Panel with Bus1/Bus2
Rocker Switches
Includes Key and USB Cable
Includes Key and USB Cable
Now with a 3D Printed Handle (no engraving)
Here's a YouTube Video showing the 2855 Cessna Switch Panel, the 2780 Throttle Quadrant, the 2705 Trim Wheel Panel and the 2395 Fuel Tank Select Panel working flawlessly in a flightdeck running the NEW Microsoft 2020 Flight Simulator. NOTE: No Saitek Panels are included in this setup
---
Come Ckeck-out our NEW Digital Trim Wheel
Add-on Ignition Switch Panel
Easily upgrade your single engine to the more advanced Twin with this easy to install panel. The 2885 was designed to be mounted along side our LG-Series Cessna Switch Panels (2820/2855 ect).
Shown with Optional Model 2855 Panel